Breast Augmentation
Conveniently located to serve the areas of Tualatin and Portland, Oregon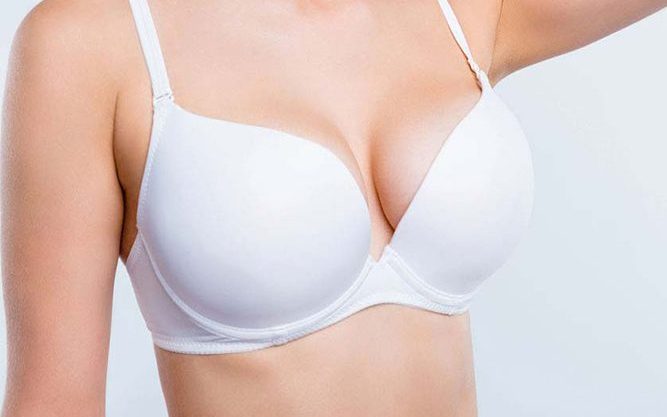 Breast augmentations are a leading procedure in the field of plastic surgery. In fact, the American Society of Plastic Surgeons reports there were over 300,000 breast augmentation procedures perform in 2017. That is a 3% increase over the previous year. It's also in increase of 41% since 2000.
In other words, patients have plenty of options if they are ready for bigger breast beautiful breasts from a reliable medical professional. This will help benefit the feminine figure and confidence of patients interested in round or shaped breast implants.
Dr. Aaron Gorin is an award winning certified cosmetic surgeon with a long history of satisfied patients. He offers safe breast augmentations in Portland, Or, as well as breast lift surgery and other related procedures.
here is a good reason why breast augmentation is one of the most popular plastic surgery procedures performed today. Breast enlargement can allow for a more natural, feminine, and proportioned appearance. It can also result in a renewed sense of confidence and self esteem. There are a variety of breast implant styles and techniques available.
Dr. Gorin uses Allergan silicone and saline breast implants under the muscle using a small incision in the breast fold. The procedure is performed under 'IV sleep' (no breathing tube needed) allowing for a faster recovery period immediately after surgery. Patients should call to set up a consultation to discuss cost, health, happiness, and tailoring the experience to best fit them.
Implant Types
Breast implants lead the field of cosmetic surgery procedures with nearly 300,000 performed in 2019. Breast augmentation is also the most commonly performed procedure by Dr. Gorin for the last 16 years. Dr. Gorin is always happy to answer your breast implant questions! He personalizes each patients surgical approach so that results are tailored to the individual anatomy.
Silicone Breast Implants
Silicone gel implants have a long history. Though the FDA shut down silicone implant sales in 1992 due to safety concerns over ruptured implants. However, further research led the agency to re-approve the use of these implants in 2006. Dr. Gorin uses silicone breast implants over saline due to their softness and overall natural appearing results.
Cost, Feel, Size
Most report that silicone implants have a more natural shape, feel and look compared to saline implants. The size and shape can be adjusted to patients, meaning a wide variety is available.
Each patient is unique, so specific questions about how silicone or saline will affect the results should be asked during pre-operative consultation.
Saline Breast Implants
Saline implants often have more evidence of 'rippling' and often feel less natural than silicone implants which is why Dr. Gorin prefers silicone far more than saline.
Research
Patient Considerations
Dr. Gorin gets to know each of his patients as individuals, and no one is 'just another patient' to him, his colleagues or his staff. This includes a thorough interview to understand potential risk factors for patients.
Nursing mothers, for example, want to know if implants affect breast feeding. Research shows that most breast enlargement patients are able to breast feed just fine.
Some patients worry about the risk of breast implants and cancer. Research shows no causal link is shown between saline or silicone breast implants and cancer, even with a family history of breast cancer risks.
Visualize your Breast procedure results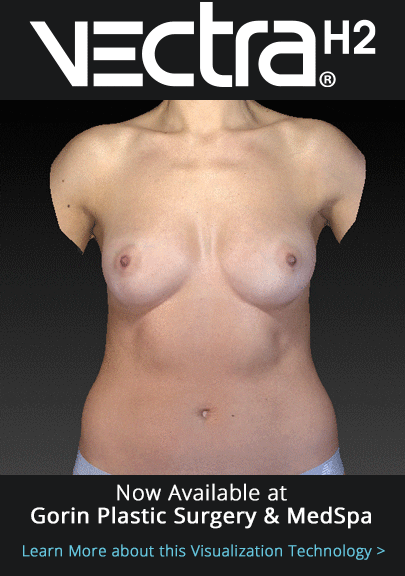 A new technology that's being embraced by aesthetic patients worldwide is the Vectra 3D visualization system now employed at Gorin Plastic Surgery & Medspa.
A breast procedure can be visualized in full 3d and modified for many surgical scenarios on the fly during a consultation to help provide patients with a high quality visual of possible outcomes and assist in their informed decision.
Choosing between breast implant sizes
Most patients ask specifically about which is the best breast size implants for their bust based on body size and physique. This is mostly a personal choice about how much larger bust size a patient wants.
There are certain limiting factors, however. Choosing too large of an implant size can lead to back pain, posture issues and other physical discomfort. In some cases, breast skin or adipose tissue can affect how natural breasts look after a procedure. The FDA provides augmentation patients with a list of questions to ask during consultation, and getting specific answers helps put most patients at ease.
Researching before and after breast augmentation photos
Please review Dr. Gorin's before and after gallery of breast enhancement patients. Most fellows of the ASPS keep their own albums of anonymous patients before and after a procedure. Looking at these photos can help establish trust between patient and surgeon, so ask to see photos during consultation.
After Care
Each patient responds to augmentation in their own way
There are no universal answers for medical or surgical procedures. Some patients will experience surgical complications no matter how much experience the surgery team brings to the operating table.
There is a low rate of reported surgical complications during breast augmentation procedures. Most of these complications are minor, such as lingering breast pain that goes away within a few weeks.
What to expect after breast implant surgery
Plan to spend a few days on bed rest. Most surgeons prescribe pain medication to manage soreness, meaning patients should not drive a car, take on rigorous exercise, do any heavy lifting or otherwise strain their upper body.
Many patients fully recover from breast implant procedures within a few weeks, meaning they can get back to work and enjoy an active lifestyle. Scarring should minimize over time as well.
Contact
Once the decision is made to have breast augmentation done, the next step is consultation. Reach out to Dr. Gorin's clinic to schedule an initial appointment. In addition to having any cost-related and health-related questions answered, patients can schedule their procedure and follow-up visits with friendly, helpful staff!
Surgery Options