Power-Assisted Liposuction
Conveniently located to serve the areas of Tualatin and Portland, Oregon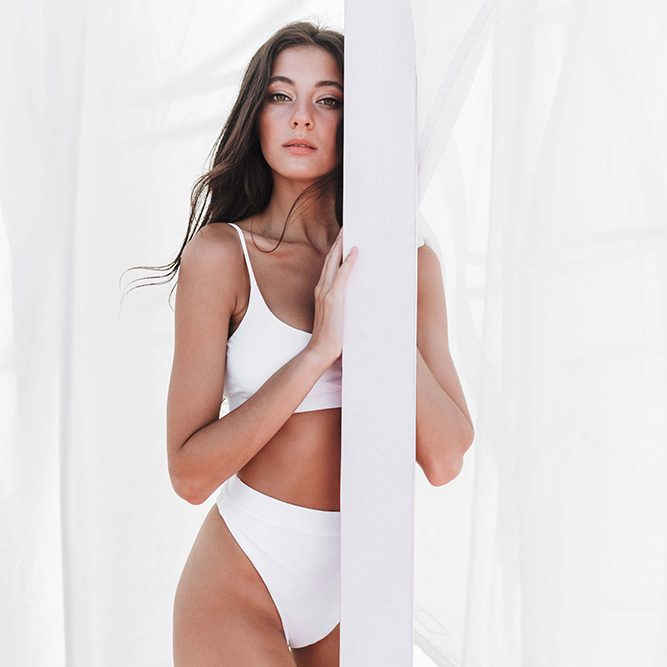 Balance, proportion and smooth contours are the fundamental elements of an attractive human form. Oftentimes our bodies do not display the confidence and beauty that we feel on the inside; fortunately we can look to liposuction in order to sculpt a better shape that exudes the beauty that you feel to almost any area of the body, achieving dramatic improvements with subtle, natural-looking changes to remove fat from the most troublesome spots around your hips, bra line/back, stomach area.
Ideal Candidate
After you have decided that liposuction may the solution to your body's trouble areas, it is important to check the training and the credentials of the doctors in your area. When searching for a plastic surgeon in the Portland area, you will find Dr. Gorin who is board certified by the American Board of Plastic Surgery and a member of the American Society of Aesthetic Plastic Surgery. In addition, he is a member of the American Society of Plastic Surgeons, a Fellow of the American College of Surgeons.
Dr. Gorin has been performing cosmetic surgery for 18 years all in the Portland area where he was born and raised. When it comes to liposuction, it is important for your doctor to be as experienced as Dr. Gorin. He has seen many patients and body types, so he is able to perfect the body's physical imperfections to remove the fat as needed in trouble areas to create natural, smooth contours. Additionally, with Dr. Gorin, consultations are complimentary and will be scheduled prior to performing the surgery. At your formal consultation, you and Dr. Gorin will review all of your options together so you walk away with the results you expect and desire.
Recovery
After your liposuction, you will find recovery to be quick. In fact, Dr. Gorin underwent the procedure himself and was able to return to performing surgery in the office just four days later. The cost and time required to perform the procedure completely depends on each patient's individual anatomy and the number of zones requested to be treated. To that end, Dr. Gorin encourages interested parties to simply email him your height, weight, age and, if possible, a photo of the areas you are interested in having treated, then he can give you a better idea of a cost estimate for your procedure.
Procedural Applications
If you are interested in removing fat from your trouble areas such as hips, bra line/back area, and your stomach, it is important to note that instead of simply removing the fat and throwing it away, Dr. Gorin can use the fat to treat other area that the patient would like to treat such as a Brazilian Butt Lift procedure. A Brazilian Butt Lift is when we take that fat and transfer it to the butt to help achieve a better overall body shape with your ideal contours. During your consultation, Dr. Gorin will be able to review your options with you for your individual trouble areas.
FAQ
What is liposuction surgery exactly?
Liposuction removes excess deposits of fat to sculpt an ideal body shape according to each individual patient's needs. While liposuction is best known as a fat removal procedure, it is also one of the best procedures to help a patient refine her shape. In fact, plastic surgeons often use liposuction to refine the results of other procedures since no other technique allows for such detailed improvements in body contour.
How to can I choose a qualified cosmetic surgeon?
You'll see many doctors advertising liposuction as part of their practice; however, even though liposuction is readily available does not mean that just anyone can perform it well. As always, it is important to vet potential doctors carefully to find a plastic surgeon who can perform liposuction safely and achieve the results you desire. When you are searching, it is important to pay attention to three key factors when choosing a plastic surgeon for your liposuction procedure

Skill & Experience: Be sure your cosmetic surgeon regularly performs liposuction for patients in the areas you want to have treated. Ask how many procedures he or she has done, and ask to see pictures of prior patients.
Board Certification by the American Board of Plastic  Surgery: All ABPS certified plastic surgeons  have had specific training performing liposuction as part of their plastic surgery residency. Also, by choosing a board certified plastic surgeon, you can take comfort in knowing your procedure will be performed in an accredited surgery center.
Aesthetic Style: With liposuction, your plastic surgeon is your sculptor. You will want to choose someone whose aesthetic sense aligns with your desired look. When viewing before & after photos, look for patients whose "before" body looks similar to yours and who has also had liposuction in the areas you desire
Is Liposuction Right for Me?
Women undergo liposuction every year to achieve a variety of different aesthetic goals.  Dr. Gorin primarily focuses on the abdomen and waist.
What is the difference between types of liposuction?
There are many different liposuction techniques available to surgeons today. The main difference between each type of liposuction is the technology they use to assist the fat removal process. The manufacturers of each type claim to have unique advantages, and plastic surgeons will sometimes prefer a certain technique depending on the nature of the procedure. Just remember that the skill and experience of the plastic surgeon performing liposuction will make the biggest difference in your results.
 How does liposuction work?
Liposuction is an outpatient procedure and can be safely performed using local anesthesia, intravenous sedation, or local anesthesia, depending on the nature of the procedure. Your plastic surgeon will recommend the anesthesia method that is most appropriate for your needs. Your plastic surgeon will then make very small incisions through with a cannula, or thin tube, is inserted and used to suction the fat out thereby sculpting the zones.  The entire procedure can take under an hour or up to three hours or longer just depending on the number of areas treated.
What is life After liposuction like?
Today's advanced liposuction techniques are designed to minimize swelling, trauma and discomfort, and when the procedure is performed by a qualified plastic surgeon, recovery from liposuction can be remarkably quick. Many patients return to work just a few days after their procedures, depending on the physical requirements of their jobs and the extent of their procedures. While your plastic surgeon can prescribe pain medication, most patients find over the counter options more than enough to manage any post-operative soreness.
Your plastic surgeon may give you a compression garment to wear for a few weeks following surgery. This helps to minimize swelling and encourage optimal skin contraction. With proper care, scars should fade significantly over the months following surgery; in many cases, scars are barely visible after a year or so, and results can last permanently with proper care
If one or more of the following apply to you, liposuction is an option to consider:
Excess fat deposits on tummy or waist that are stubborn and will do not respond to diet and/or exercise. Liposuction is excellent for reducing fatty bulges and sculpting a beautifully natural contour to the body.
If you feel like certain areas of your body are out of proportion with the rest of your figure. Reducing excess fat on one area of the body can bring it into better balance with your natural features.
If you are at or near your desired body weight. Liposuction is best for reducing localized fat deposits, and the most satisfied patients are typically happy with their overall weight before surgery.
The ideal liposuction patient has localized fat deposits & good skin tone. However, it is important to have realistic expectations about what liposuction can achieve. If any of the following apply to you, then liposuction may only offer limited success in helping you achieve your goals. Your plastic surgeon can recommend the options best suited to your needs:
If you have loose, sagging skin liposuction may need to be paired with another solution. Since liposuction is designed specifically to target fatty tissue, it will not significantly improve the appearance of loose skin. Other body contouring procedures, such as a tummy tuck, may be better options for you.
Liposuction can improve your shape, which can help you look thinner and more fit, but it's not a weight loss method.