Ultherapy
Conveniently located to serve the areas of Tualatin and Portland, Oregon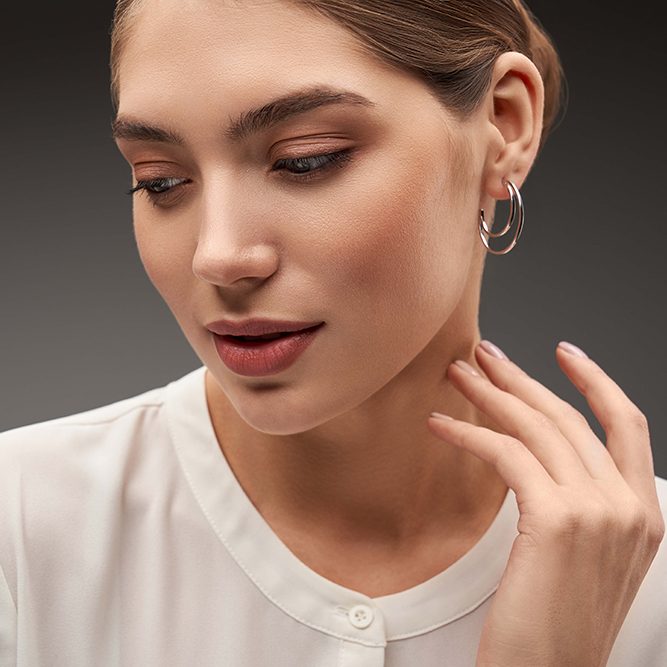 Meet Cassandra, and learn about her experience working with The MedSpa at Gorin Plastic Surgery and find out how Ultherapy in Portland helped transform and revitalize!
You may have seen this new non-invasive skin tightening procedure for your face, neck and skin featured on national TV shows such as Rachael Ray, The Doctors, 20/20, Dr. Oz and The View, plus touted by big-name beauty editors from Vogue, Harper's Bazaar, Marie Claire and more.
At Gorin Plastic Surgery, we feel that you will get even better results with Ultherapy when it is combined with other nonsurgical procedures including Botox and filler.
About Ultherapy
Ultherapy counteracts the effects of time and gravity on your face and neck skin. The beauty of this 60-minute in-office procedure is that it stimulates the production of new, stronger collagen. The result? Tighter, better-fitting skin!
Non-Invasive Tissue Lifting
Ultherapy 2.0 – a Ultherapy treatment with double the results! Ultherapy enables practitioners to direct sound waves not only into the skin but deep under the skin to the same tissue addressed in surgery. Never before has this tissue been accessible without surgery. With the use of Ultrasound therapy in Ulthera, the practitioner can see deep into the layers of the skin, enabling them to target depleted collagen while avoiding nerves, bone, etc. Previous similar non-surgical treatments such as Thermage are done blindly and therefore, must remain at a surface level.
Ultherapy gently heats the tissue to lift and tighten loose skin without cutting or disrupting the surface of the skin. In addition to the visible effects of lifting and tightening, Ultherapy also creates new collagen, which helps the skin maintain its youthfulness.
The Ultherapy Treatment lifts, tightens, and tones loose skin around the brow, cheeks and neck to counteract the effects of time and gravity. This non surgical procedure can give you a neck lift, chin lift, tighten loose skin and will give you the smooth skin that you've always dreamed of.
Our office, located in Tualatin, a suburb of Portland, can offer you a free consultation to see if Ultherapy is right for you. We can educate you on the cost of the procedure, and give you a good idea on the results you can expect.
Real Patient Stories & Videos
FAQ
How is Ultherapy different from other cosmetic procedures?
Ultherapy is the only non-surgical cosmetic procedure that uses focused ultrasound to stimulate the growth of new collagen deep within the skin. The production of new collagen occurs over time, so results can become more apparent over three to six months. The procedure takes only about an hour for most patients, and there is no downtime.   It also is the only procedure to use ultrasound imaging, which allows us to actually see the layers of tissue we target during the treatment and ensure the energy is deposited precisely to where it will be most effective.
What does it feel like?
There may be some discomfort while the energy is being delivered, but it is temporary and a signal that the collagen-building process has been initiated. Comfort thresholds vary from patient to patient, and practitioners will discuss options for making the experience as pleasant as possible. Patients leave comfortable and happy given the benefits to come.
How long does it last?
Patients treated with Ultherapy still have fresh young collagen after a year's time following the procedure, but skin continues to age. Future touch-up treatments can help keep pace with the aging process, which varies by individual.
Are there any side effects?
There may be slight redness for up to an hour or so following the treatment, and a small percentage of patients may have slight swelling, tingling or tenderness to touch, but these are mild and temporary in nature.
Can men have it done?
Yes! Both women and men globally are receiving Ultherapy.
The non-invasive Ultherapy® procedure is U.S. FDA-cleared to lift skin on the neck, on the eyebrow and under the chin as well as to improve lines and wrinkles on the décolletage. The most common side effects reported in clinical trials were redness, swelling, pain and transient nerve effects. For full product and safety information, visit Ultherapy.com/IFU.
All rights reserved. Ulthera, Ultherapy, DeepSEE, See the Beauty of Sound, See the Power of Sound, Amplify and Lifting Lives are trademarks of Ulthera, Inc. in the United States and various other countries. All images and video on this page are provided by Ultherapy®.