DiamondGlow
Conveniently located to serve the areas of Tualatin and Portland, Oregon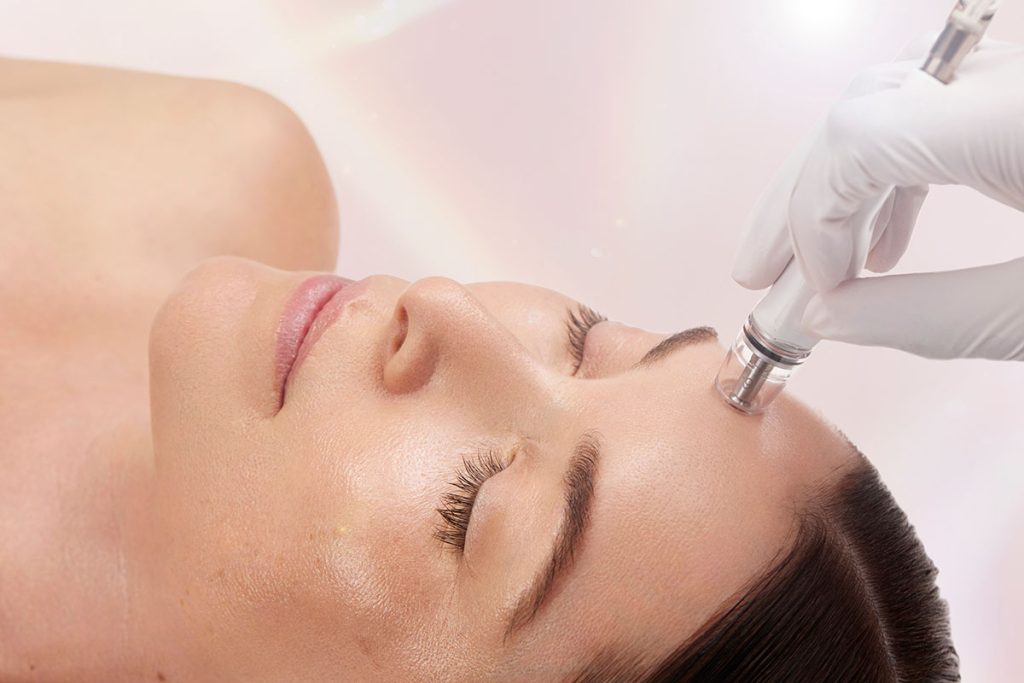 DiamondGlow is a treatment device that utilizes dermabrasion to clarify and hydrate your skin, resulting in a more youthful and brightened complexion. A DiamondGlow facial involves specialized serums that infuse nutrients into the skin prior to the exfoliation portion of the treatment. These serums are carefully selected based on each patient's specific needs, ensuring personalized and targeted results.
If you are looking to not only improve the overall clarity of the skin but also help to reduce the appearance of blemishes, textural irregularities, and scars, the DiamondGlow experience may allow long-term improvements in your skin's health and appearance.
The experienced team at Gorin Plastic Surgery are committed to providing individualized care and delivering natural-looking results. Schedule a consultation at our location in Portland by calling (503) 692-7222 or by inquiring through our contact form. Our team stays up-to-date on the latest research and techniques that allow patients to achieve the best results while placing safety as a top priority.
About Dermalinfusion®
DiamondGlow treatment sessions employ 3 processes of skin revitalization all at once– all part of the process known as Dermalinfusion®. The customizable diamond tip on the DiamondGlow handpiece device gently exfoliates dead skin cells from the topmost layer of skin, the epidermis. This aspect of the procedure is called microdermabrasion. It also applies suction that cleans dirt and excess oil buildup in the pores while applying a SkinMedica® Pro-Infusion serum. Depending on your cosmetic desires and your skin type, your skincare specialist at Gorin Plastic Surgery will apply a serum that treats:
Uneven Skin Pigmentation
Age Spots
Hyperpigmentation Conditons
Fine Lines and Wrinkles
Atrophic Scars
Large Pores
The Science Behind Microdermabrasion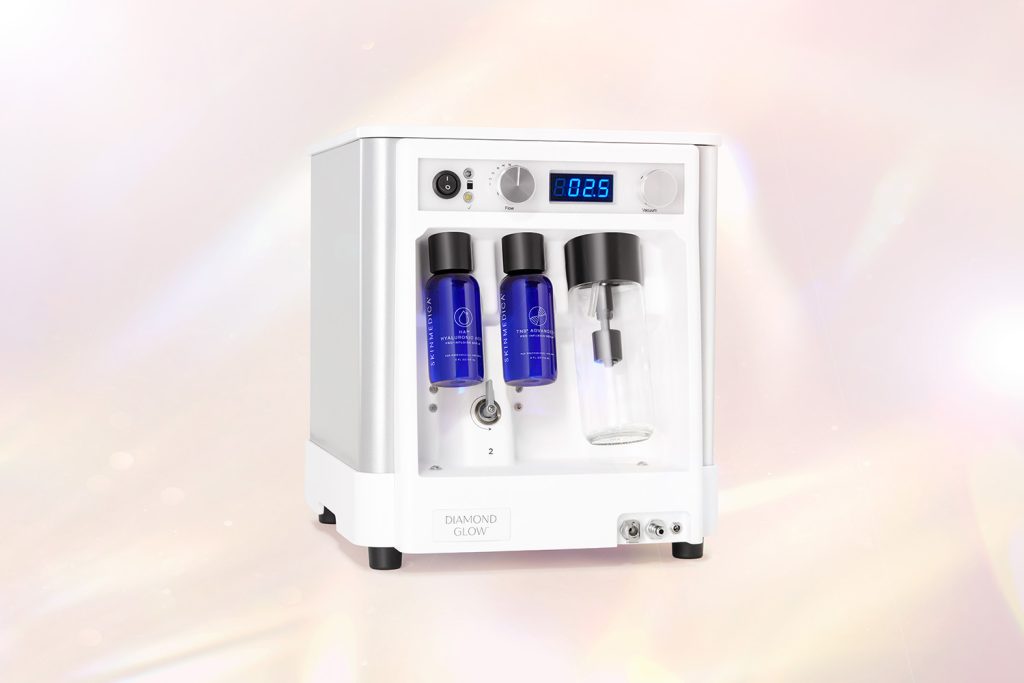 The microdermabrasion abilities of the handpiece are critical to the success of your results. Besides exfoliation itself, the diamond tip is capable of rearranging the melanosomes of the epidermis, the structures that store melanin (skin pigment). The tip increases the density of collagen fibers found within the dermis layer of the skin- leading to more skin rigidity. The process also boosts the skin's wound-healing abilities, so it promotes glowing skin while making it more resilient and healthy. (1)
The exfoliating effects of the diamond tip stimulate the skin's fibroblasts, cells that are found within the skin's dermis layer. These cells are directly responsible for the creation of collagen and another connective protein called elastin. Your skin's natural reaction to a DiamondGlow treatment encourages increased production of collagen and elastin, a major contributing factor to your overall final result.
Which Serum is Right For Me?
Each SkinMedica® Pro-Infusion serum has a different formulation to fight against specific signs of aging and imperfections:
The Pore Clarifying serum is specially designed to decrease the skin's oil production that contributes to blackheads.
The Ultra Hydrating serum contains hyaluronic acid (HA), a substance found naturally in the body that helps the skin maintain hydration.
The Skin Brightening formulation targets conditions such as melasma, rosacea, sun damage, hyperpigmentation, and other types of discoloration issues.
Vitamin C is an antioxidant, meaning that it reduces and prevents cellular damage while also boosting collagen production. (2)
The SkinMedica® Tissue Nutrient Solution (TNS) Advanced + blend contains a variety of antioxidants and proteins designed to reduce wrinkles and sagging skin.
One of the advantages of the serum application is that you don't have to choose just one. Of these five serums, your skincare specialist can help you choose one, or they can apply a blend of two or more to the device.
Candidates for DiamondGlow
In general, DiamondGlow is safe for nearly everyone, but there are some exceptions. If you have psoriasis or eczema in the treatment area, DiamondGlow is likely to leave your skin drier and itchy. People with herpes simplex virus (HSV) should completely refrain from the procedure unless they are prescribed an antiviral medication prior to treatment. Those with acne and those who have recently treated their skin with Accutane should also wait until their skin is healthy enough for any type of facial procedure.
Personal Consultation
A personalized, complimentary consultation at Gorin Plastic Surgery is the essential first step toward achieving your desired skin rejuvenation results with DiamondGlow. Dr. Gorin and his dedicated team are committed to providing comprehensive and individualized aesthetic consultations for patients seeking the best non-surgical treatments available.
During your personal consultation, your skincare specialist will take the time to understand your unique skin goals. This includes discussing your medical history, current skincare routine, and any previous treatments or procedures you may have undergone. By gaining a thorough understanding of your specific needs, we can develop a customized treatment plan for your specific cosmetic issues. To get started today, contact our office in Tualatin, OR by dialing (503) 692-7222.
Preparation
Prior to your DiamondGlow treatment, you should take extra precautions to avoid sun/UV exposure or wear sunscreen with an SPF of 30 or more. Any sun damage can make your skin more vulnerable to injury or infection during the procedure. Your skincare specialist will thoroughly review your chosen serum/s to ensure you're not sensitive to any of the ingredients. In the 2 weeks leading up to your appointment, you should completely avoid all neuromodulators (like Botox) and dermal fillers. Roughly 1 week before, you should stop any skincare routine that incorporates alpha-hydroxy acid or retinoids.
DiamondGlow Procedure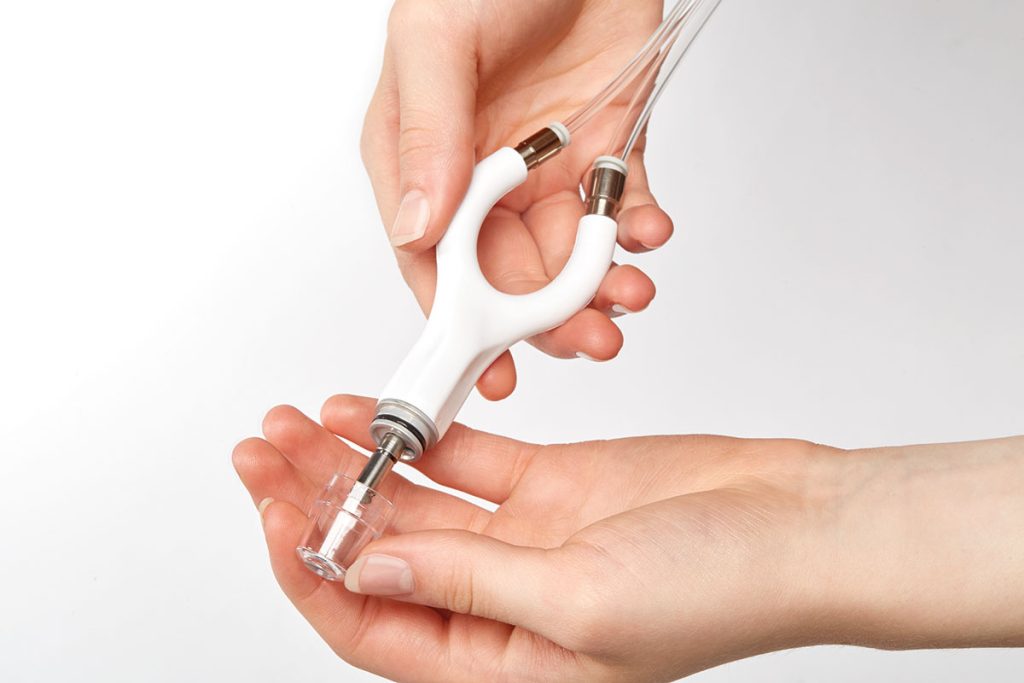 Prior to your procedure, your skincare specialist will set up the device with the proper mixture of serums that will target your specific concerns. They will apply the appropriate diamond tip to the DiamondGlow handpiece to provide the correct amount of exfoliation. There are 6 tips to choose from.
Your specialist will turn on the suction of the handpiece and begin applying the diamond tip to your skin. They will make several passes in long strokes along your face and neck. As the tip clears away debris in your pores, it administers the serum. After roughly 30 minutes, the procedure is complete. This type of facial is completely painless, though many patients describe tickling sensations. Although patients are able to undergo DiamondGlow on the same day as a special event, this is not recommended for first-time patients. After just 1 treatment, you'll notice an immediate difference in your complexion and smoothness.
Recovery and Results
Immediately after your session, it's possible that you will feel some tenderness, warmth, and redness, but these side effects are minor and will likely only last a few hours. The results you see after 1 session will last roughly 1 month– the amount of time it takes for new skin cells to replace the old cells.
Your skincare specialist may recommend DiamondGlow no more than every 4 weeks, but they will come up with a personalized plan for you. Regardless of how many sessions you choose to get, your specialist may prescribe at-home SkinMedica® products to take home to extend your results and promote healthier skin. In addition, you should continue to use daily sunscreen with an SPF of 30 or more or take extra care to avoid excessive sun exposure.
Cost of DiamondGlow in Portland
The cost of a DiamondGlow treatment at Gorin Plastic Surgery will depend on several factors specific to each individual patient. We aim to provide you with a unique, engaging, detailed, and comprehensive experience, tailored to your skin goals. Depending on these factors, you may need fewer or more sessions than the average patient or another type of treatment may be recommended to you. To get all of your questions answered, please consider a complimentary consultation or give us a call at (503) 692-7222. A member of our team will get back to you as soon as possible.
FAQ
Is DiamondGlow safe for all skin types? 
DiamondGlow is safe for almost everyone who doesn't have a major skin condition within the treatment area. This specific facial treatment is not as abrasive as a laser or chemical peel, making it safe enough for patients to avoid the complications of hypopigmentation or hyperpigmentation. 
What is the difference between DiamondGlow and HydraFacial?
HydraFacial is another popular exfoliating facial that is often compared with DiamondGlow, but instead of exfoliating through an abrasive diamond tip, it utilizes glycolic and salicylic acid. For some skin types, salicylic acid can be too harsh, and it can cause the skin to lose more hydration than necessary. DiamondGlow's diamond tips apply a more gentle and effective form of exfoliating, making way for better penetration of the applied serum. 
Is there any downtime required after a DiamondGlow treatment? 
There isn't any downtime required after a DiamondGlow session. The device doesn't require any type of anesthesia, and patients can resume their daily routine immediately after their treatment. 
Should I continue my daily skincare routine after a DiamondGlow session? 
You should continue your skincare routine as usual, but you should take extra precautions to avoid using products that tend to have a drying effect on the skin. You should avoid exfoliating products until your skincare specialist says that it's safe to resume using them. 
References
Shah M, Crane JS. Microdermabrasion. PubMed. Published 2020. https://www.ncbi.nlm.nih.gov/books/NBK535383/
Telang PS. Vitamin C in dermatology. Indian Dermatology Online Journal. 2013;4(2):143. doi:https://doi.org/10.4103/2229-5178.110593